Pissing on Trees
The events at the National War Memorial in Washington that transpired yesterday highlight the contempt that government employees in general and the Obama administration in particular, hold for the citizens and public they are paid to serve.
Using the national parks employees to set up barricades, obstructing lawful access by citizens to public spaces, strikes a new low for this administration. The parks service has no resources to keep the public washrooms open ... but they do have the time and staff to erect these barricades and guard them with the sole purpose of antagonizing a group of veterans who had previously arranged to hold a ceremony at the memorial site.
The veteran's group moved the barricades and went ahead with their observances and plans are under way to continue holding assemblies in protest ... in spite of the lack of washrooms.
As one spokesman for the veteran's group said:
"We have people here that are 80 and 90 years old and they closed down all the bathrooms?" said Tony Nussbaum, a 25-year veteran of the Air Force from Iowa and a leader of the state's Hero Flight group. "I'm about to just start pissing on the trees." …
I think that much more pissing on trees is in order.
Update..... "More guards than at Benghazi" (Powerline)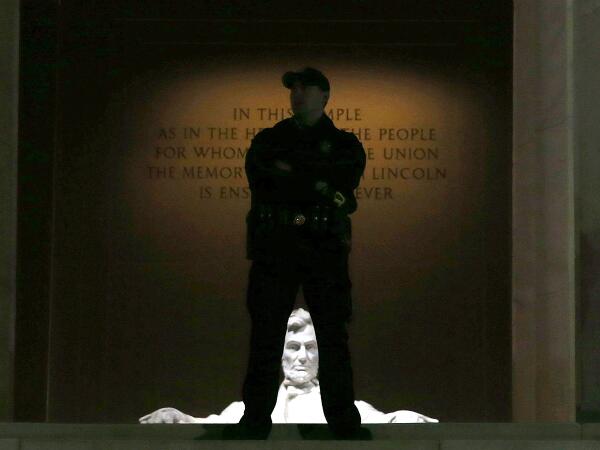 More monument sites blocked and guarded today .... But the veterans are on site at the WWII memorial... no word on where they are relieving themselves.
OMMAG
Labels: America, BS, Bureaucrats, Clowns in Politics